Download youtube videos, or converting youtube videos to mp3 has just got a whole lot easier! Here, you will learn all the steps and tricks you can use to get youtube videos in your phone permanently, or as an mp3 to listen to the audio offline from your phone.
YouTube is the world largest leading video site! It holds videos for anything you can ever think of. We go to watch videos about tutorials on an endless variety of things (from educational and tutorial videos to movies and music videos). It's another world on its own!
However, one major problem everyone is complaining of and YouTube does not want to amend. Everyone can only watch these videos on their site, but cannot download them to your mobile device.
Well, I present you with solutions!
List of ways to download Youtube Videos for free
1. ON ANDROID AND IPHONES
(Vidmate)
This viral app is very similar to the original YouTube app. However, there is a cherry on top; this app allows you to download the videos free! As simple as ABC.
Just search for the video of your choice and click on the download arrow. Your video will start downloading in app and you will be able to monitor the whole download process! Once it finishes, you can find the video in your storage (gallery, videos)
With this method, you will be able to download the videos to your mobile phone or laptop free. It's simple, reliable and works every time!
2. ON ALL PHONES AND ON COMPUTERS TOO
(Savefromnet)
Follow the steps below to be able to download YouTube videos on your phone and on your computer as well.
Open your browser and visit YouTube website. (Do not use the YouTube application. Make sure you use a browser)
Search and identify the video you wish to download on your mobile or pc browser. (You can download anything you want) Once you have gotten the video you want, click on it to open it. Let it start playing then pause the video using the pause button.
At the top of your browser, you should see the address bar with the YouTube address in it. Click on it to highlight (select or mark all) the address displayed there.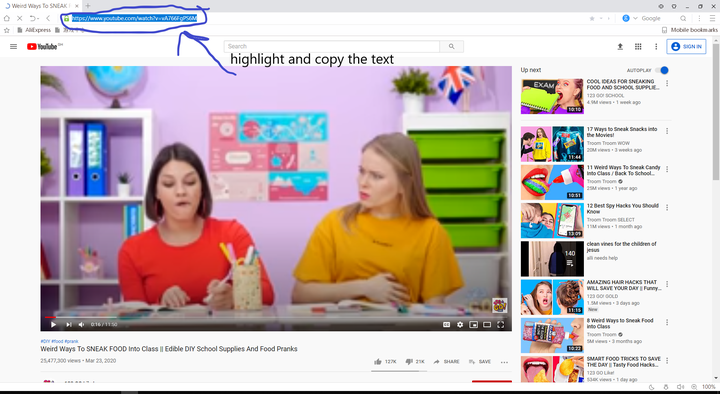 Once highlighted, copy it all (Be careful not to clean any numbers, symbol or letters of the address in the address bar. Make sure you copy every single text inside).
Read also: Amazing Mobile Apps You Must Have On Your Phone in 2021
After successfully copying it, open a new tab or page in the same browser. Type this on your browser savefromnet and search for it on google.
After the results displays, it is mostly the first in the results on google. Click on this exact site.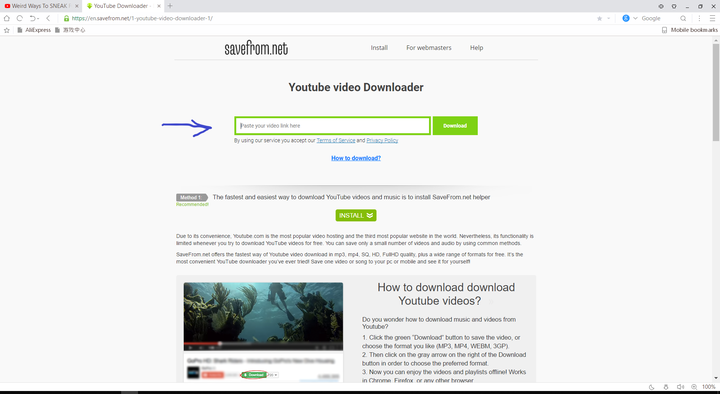 You would be presented with a search bar. Paste the address you copied earlier in the search space presented to you. Wait for the website to read the address and identify the video.
The video result will be displayed. Click the format you desire and click download.
That's it! Your YouTube video will start downloading!
Thanks for reading! follow these steps and your youtube video is going to be downloaded and stored in your phone.
Youtube Video to Mp3 Format
While downloading the full video on youtubes can be fun and data saving, sometimes we wish for only the audio. this case is usually the option when trying to download seminars, music videos, podcasts and music performances.
After following the steps above and downloading the youtube video, here are mobile apps you can use to convert the video to mp3.
Read also: Make Your Android Battery Last Longer with these easy hacks
List of Apps you can use to convert Youtube videos to mp3 for free
Free Any Video Converter
All Video Downloader
MP3 Video Converter
Free Video To Audio Converter
Free HD Video Converter
Websites to convert Youtube video to Mp3 format online
if you do not want to install any app, there are online platforms that will help you convert your youtube videos to audio mp3 files. Here are some of them:
MP3FY is a website that allows you to copy and paste the YouTube video's URL and convert it to MP3. Simply paste the URL into the box and hit the Convert button. After verifying the video's title, click Confirm, and then save MP3. Save the MP3 file to your PC and play it with your preferred music player.
The free version of 4K YouTube to MP3 is the most basic. you will be able to convert videos to mp3 or other format, but your conversion will be limited and low quality. The premium edition costs $15 for three personal licenses and removes advertisements, allows you to download YouTube playlists and channels, and includes future software upgrades.
Another dependable and hassle-free converting service is Motionbox's YouTube To MP3 converter. In the relevant area, copy and paste the YouTube video's URL. You can listen to the audio before downloading it when it has been converted. Click the Download MP3 option, then Trim. Finally, store it to your PC.
---
Learn more on GBenj